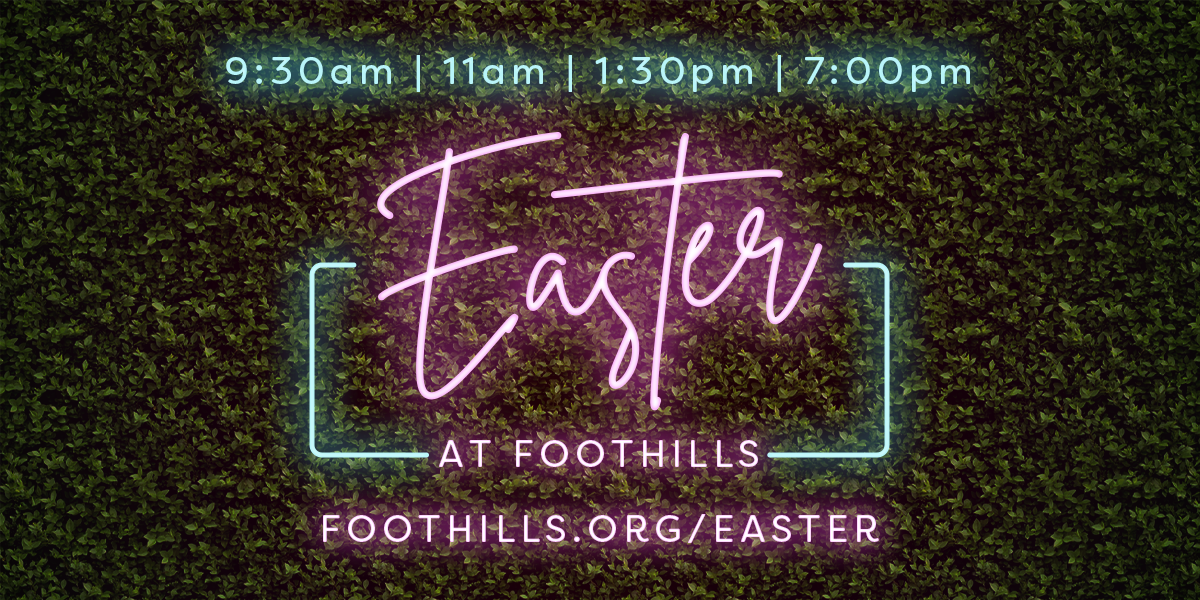 Easter at Foothills (Online)
The most significant event in the life of every Christian is the Resurrection of Jesus Christ. What we celebrate is what we honor! So let us celebrate the Risen King! We are going to celebrate in a way that lifts up the name of Jesus and will focus your faith, strengthen your family, and bless your community!
Here are 3 ways to celebrate with us! #1 – Prayer
We are going to pray together for our faith to grow, our marriages, our families, our community, and our world.
Take the 21 day prayer challenge. It starts on Monday, the 23rd of March and will be available exclusively through our new app! Download or update the existing Foothills Boise app through the app store on your phone.

#2 – Multiple Worship Celebrations Online
More worship to celebrate the Resurrection!
• We will have 4 online worship celebrations at 9:30am /11:00am /1:30pm /7:00pm
• Join us on YouTube or our Facebook page to live stream the celebration.
• Share this page with your friends using the Facebook or Twitter icons to the left of this page .
• Check out the FAQs below.

#3 – Special Giving
Foothills has been growing!!
FH has been growing and it is really stretching our ministry resources. Would you consider a special gift, over and above your tithe, this Easter to celebrate Jesus Christ and what He is doing in our midst? 
How will we take Communion?
We will have a time set aside in the service for you to practice Communion in your home. It doesn't have to be grape juice or crackers. This time is more about the meaning of communion and experience together. If there are graham crackers and some apple juice, consider it good!
Are all the services the same?
Yes each service will be the same content:
   • Worship
   • Message
   • Communion
   • Habit of Generosity
How do I invite my friends?
1. Click the Facebook or Twitter icon to the left of the screen and share it to your social media!
2. Copy and Paste this website address into:
      • Your Facebook status or FB Messenger
      • A text message
      • Even an email!